If you are currently seeking PMHNP opportunities, you can apply for jobs at DirectShifts. We have open positions for PMHNPs in various states. Click here to speak to our recruiter. You can also click on the links below to explore opportunities and apply.
Psychiatric Mental Health Nurse Practitioners (PMHNPs) are licensed psychiatric nurse practitioners who diagnose and provide care to patients suffering from addictions and mental health conditions such as Bipolar disorder, ADHD, Depression, and anxiety and panic attacks. They use a wide range of techniques to treat patients and work in diverse facilities and settings. Due to the increased need for mental health care delivery, there has been a rise in the number of well-paying PMHNP jobs across the country for a while now. While the average psychiatric nurse practitioner salary is about$128,596, according to the Melnic@DirectShifts Salary Guide 2021, the figures for PMHNP salary by state vary.
Here is a list of 10 states that pay PMHNPs the highest salaries:
1. California
California is a great place to work as a PMHNP. The average salary of PMHNPs in California is $148,446 per year. It has a pleasant and warm climate all through the year and offers several recreational activities and adventures. California also provides high-quality higher education.
2. Massachusetts:
The average psychiatric nurse practitioner salary in Massachusetts is $141,524 per year. Massachusetts also offers affordable healthcare and housing when compared with the rest of the country.
3. Arizona:
Arizona pays PMHNPs an average yearly salary of $148,242 per year. It has a strong job market with a job growth rate twice the national average. Hospitality and healthcare are the top employment sectors in Arizona.
4. Mississippi:
PMHNPs in Mississippi earn an average salary of $150,110 per year. The state has plenty of wide open spaces and almost no traffic jams! A happening music scene and great local food make Mississippi a great state to relocate for a PMHNP job.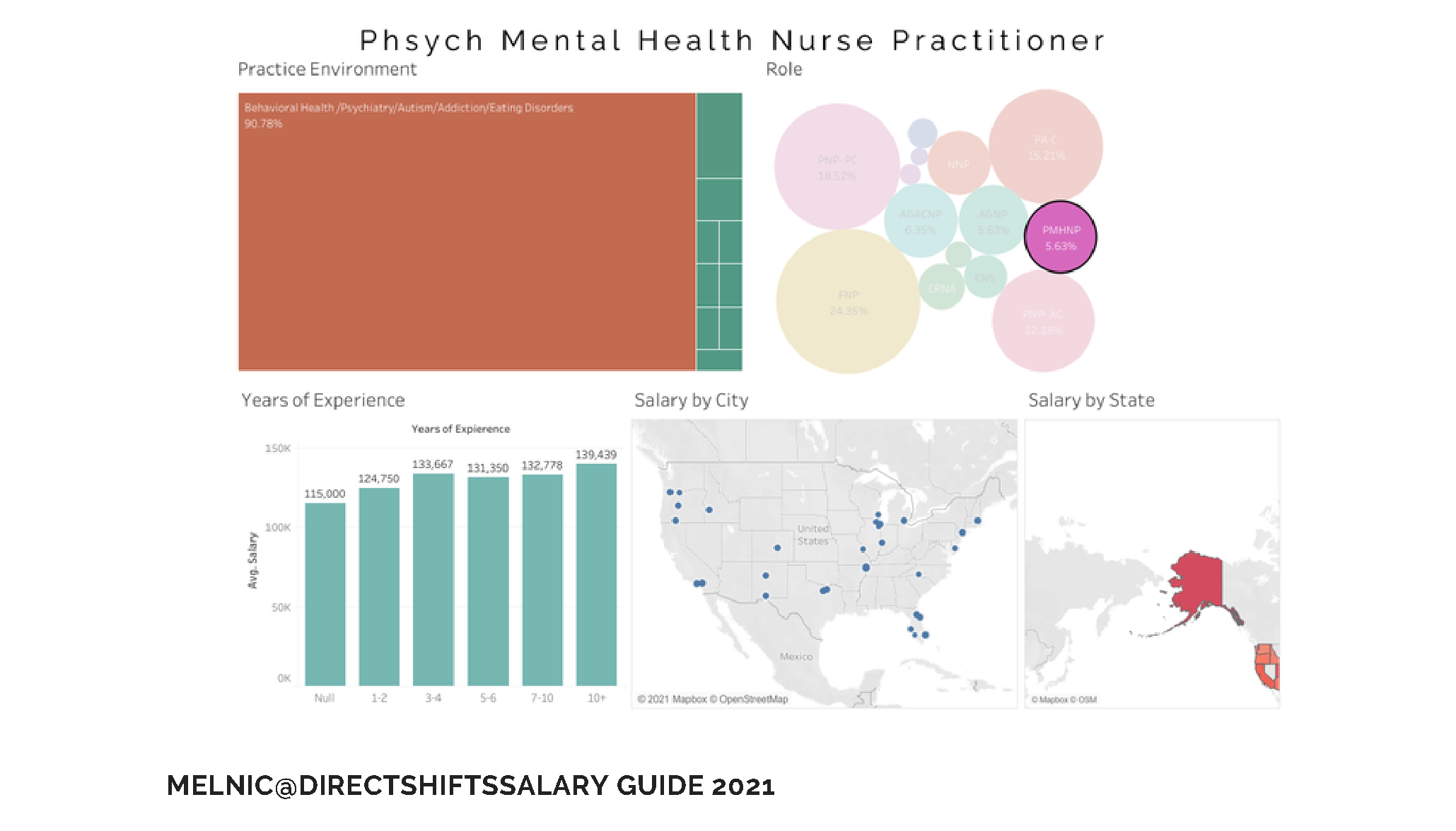 5. Nevada:
In Nevada, the average salary for PMHNPs is $154,616 per year. Nevada is a state with one of the lowest taxes in the country. It offers numerous outdoor activities and parties on any day of the week, helping you to de-stress anytime. Nevada also offers affordable real estate options.
6. Maryland:
The average psychiatric nurse practitioner salary in Maryland is $140,936 per year. The state provides great job opportunities and a wide range of outdoor activities. It is strategically located close to big cities and small towns, so as a PMHNP, you,ll never run out of side gigs. Maryland is also known for its unique culture and delicious local foods.
7. North Dakota:
In North Dakota, the average PMHNP salary is a whopping $175,936 per year. The state has one of the lowest unemployment levels in the country and a reasonable cost of living. Education and housing in North Dakota are top-notch and affordable too. North Dakota is also one of the best states for pediatricians and family physicians.
Before relocating to a state for a PMHNP job, ensure that you research the opportunities, cost of living, housing, education and other factors to make a well-informed decision.
Click here to speak to a recruiter & learn more about PMHNP opportunities.