How To Find A Job As A Clinician On The DirectShifts Platform
We at DirectShifts put our best effort into improving the job search experience for a clinician, and we recognize that sometimes the small things matter! We receive a lot of fantastic feedback from clinician candidates which helps us improve and enhance your job search. These features will help you to search for more specific criteria, expand your job search preferences, and keep up with trends in employment in the healthcare industry.
DirectShifts is not an agency, but a job marketplace for healthcare professionals to browse with pay transparency. We empower healthcare professionals to find their perfect job opportunities faster and more accessible than ever before. Our overall goal is to advocate for clinicians and provide resources about trends in the industry while helping healthcare professionals find employment that is right for them. Some clinicians on our site may not be aware of all that we do, so let's quickly look at some lesser-known facts.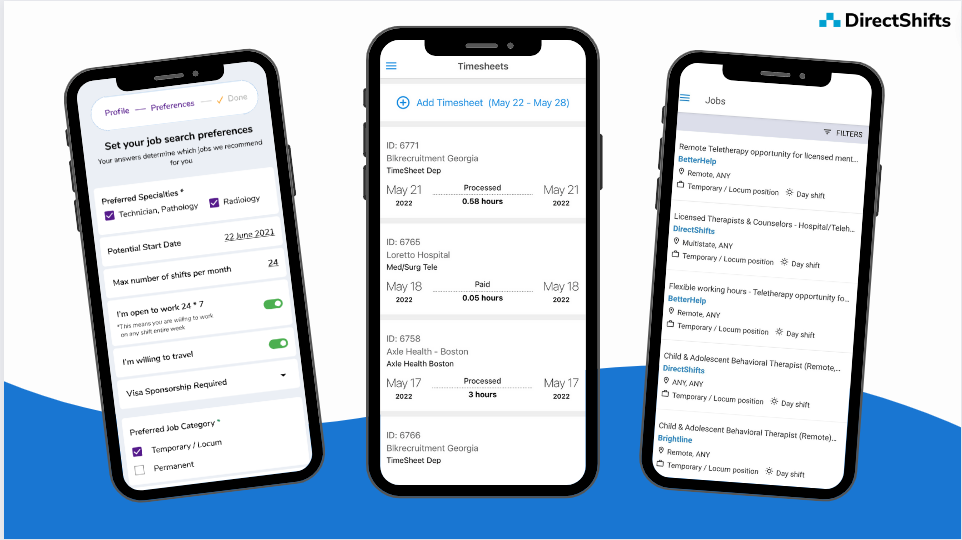 How It Works
Step 1: Setting Up Your Free Profile
Once you have created your free account, you can enter your preferences for location, practice type, ideal pay, schedule, benefits, preferred contract type (including locums, permanent), and more. Based on your answers, we'll match you with the most relevant healthcare jobs.

Step 2: Apply Directly to Job Listings
You can apply to multiple jobs directly with just a few clicks. See who you can work for and how much they're offering. Interact directly with employers. At DirectShifts, we help healthcare professionals find jobs that are the right fit for them. In order for a clinician to find a role that best suits their interests and skills, it is important that the jobs they are looking for are accessible, clear, and transparent.

Step 3: Get Credentialed Online.
Having and maintaining healthcare credentials are important to how clinicians and medical professionals secure their jobs, negotiate for and earn higher salaries, prepare for leadership roles, and advance their careers. With our new feature release, the DirectShifts platform can now also help you manage all your professional certification and documentation - all in a single place! Our easy-to-use platform lets you - not only, share your credentialing documentation directly with your next employer, but also sends you notifications for upcoming certificate expiration dates! DirectShifts enable easy documentation & credentialing for healthcare professionals across the USA in two steps:
Just enter your certificate,s details
Add your preferences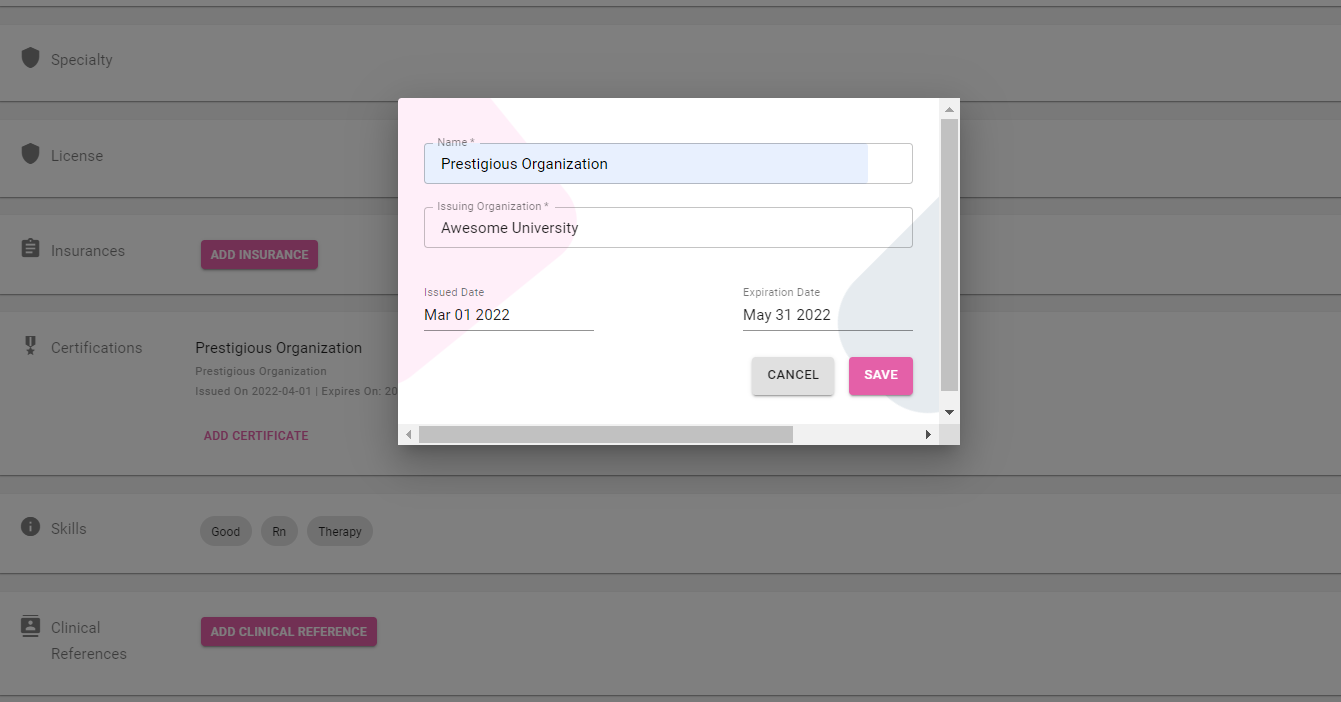 FAQs
Start Working (And Get Paid More)
Whether you're interested in full-time or locum work, matching with companies on DirectShifts means you can start working sooner and receive higher pay. It's a win-win!
Who's Part of the DirectShifts Team?
DirectShifts was started by physicians, recruiters, and technology experts who understood the problems in the healthcare recruitment industry firsthand. DirectShifts is backed by stellar investors including YCombinator, Pioneer Fund, Altair Capital, the former CFO of Epic EMR, and the founder of Caremark.
What's the Cost of Applying to Jobs on DirectShifts?
It's completely free to create a profile and apply to as many jobs as you would like. You can also store all your credentialing documents as a digital wallet on our platform for easy sharing
Am I Allowed to Interact Directly with Employers?
Yes! With DirectShifts you can reach out to employers from the start, without waiting for a recruiter to choose you. We believe in complete transparency and won't get in the way of you or your employer during negotiations unless you ask for help. It's in the best interests of all parties.
What Kind of Jobs do DirectShifts Have?
DirectShifts partners with top healthcare employers across the USA to provide job opportunities for healthcare professionals in a variety of jobs such as locum, permanent, travel, and per diem jobs for physicians (MDs), APPs, therapists, medical assistants, physician assistants, nurse practitioner, registered nurses, technicians, RRT/OT/PT, LVN/LPN, and CRNAs