A Free Mobile App For Healthcare Professionals In The USA in 2022
A free-to-use mobile app for clinicians to find their next big opportunity is here! Welcome to the DirectShifts Healthcare Job app. A job marketplace built for clinicians by clinicians. DirectShifts offers a variety of healthcare jobs, including permanent roles, per-diem shifts, locums, and travel positions, by using an AI-based platform. Find the DirectShifts healthcare job app on the App Store as well as on Android devices.
Why download the DirectShifts app?
We are a community of 700,000+ pre-verified and credentialed healthcare professionals. We aim to connect healthcare professionals directly with hospitals and employers by eliminating recruitment agencies and middlemen from the recruitment process.
Benefits-
Convenience: search and apply at your convenience.
Transparency: Find out the exact hospital and pay rates. No hostile contracts
Get paid more: Get paid higher as there are no middlemen or agencies.
Online Credentialing: We collect all your documents for you and facilitate faster credentialing. Manage all your paperwork online.
Tax Filing: We understand that tax filing can get complicated! We will help you file your taxes at no cost.
Easy to Use: Apply for jobs with a few clicks. No more paperwork or fax machines needed.
Stop using traditional job boards and agencies to find your next role.
App features to help you with your job search
We simplify everything with a suite of modern software tools all in the palm of your hands.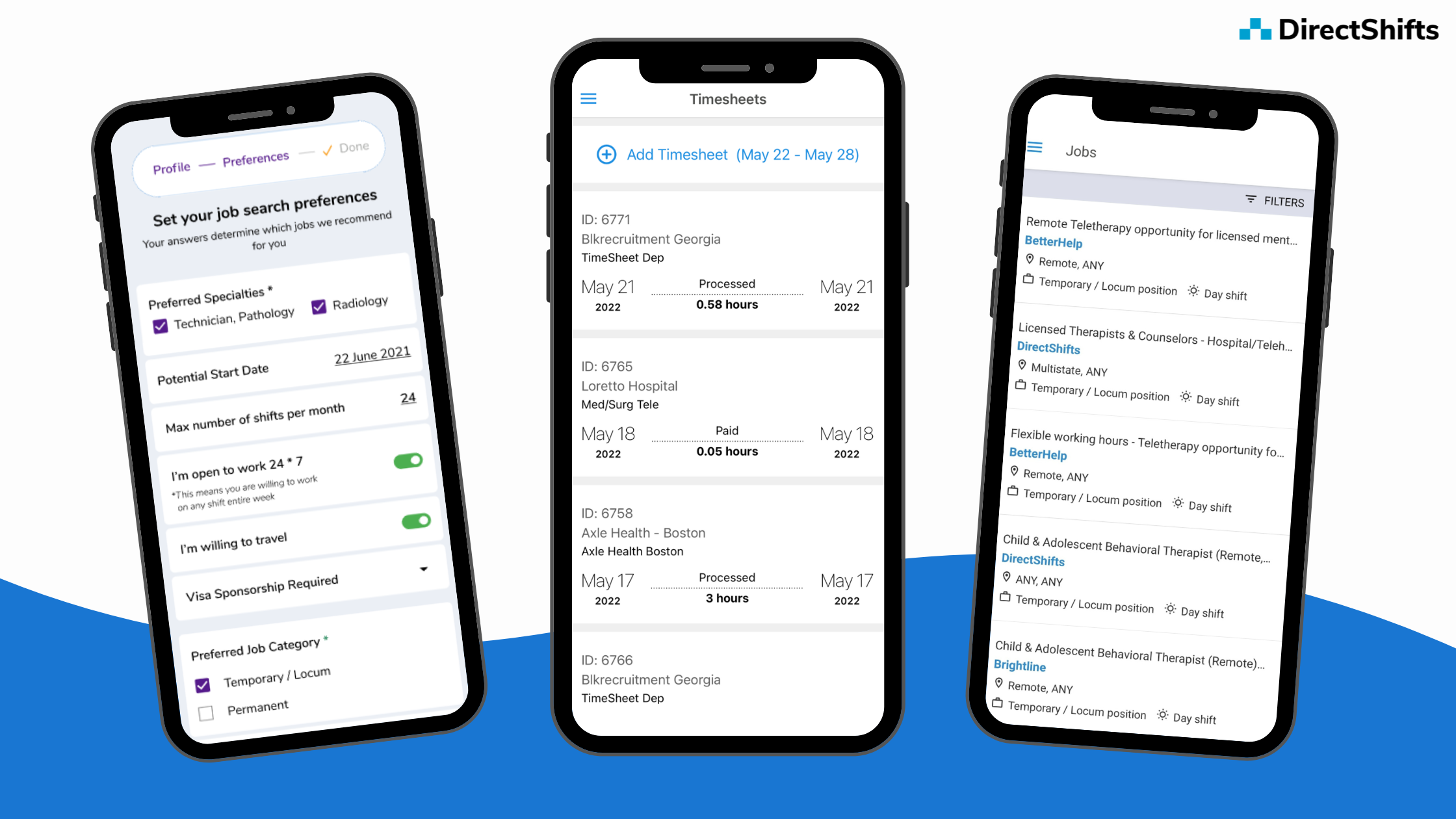 Search thousands of active healthcare jobs online with top employers.
Filter by location, pay, shift, speciality, and more.
Manage/upload your digital resume and credentials.
Submit your timesheet with ease on the go.
FAQ:
What kinds of jobs do DirectShifts have?
DirectShifts partners with top healthcare employers across the USA to provide job opportunities for healthcare professionals in a variety of jobs such as locum, permanent, travel, and per diem jobs for physicians (MDs), APPs, therapists, medical assistants, physician assistant, nurse practitioner, registered nurses, technicians, RRT/OT/PT, LVN/LPN, and CRNAs
Why is DirectShifts different from the rest?
We are a job marketplace built for healthcare professionals by healthcare professionals. We have unbiased, meaningful information, including detailed job postings, lucrative pay categories, real employer reviews, and more. And we are happy to share everything with you. We integrate all types of healthcare professionals into all types of healthcare services. We'll show you every job that's right for you.
How do I keep up with my applications?
With DirectShifts, you can create a unique healthcare profile that can be used as a healthcare CV/resume for healthcare employers across the country. You can keep all your applications and messages in one place. Get notified instantly when a job matches your needs, and connect with employers right away through our real-time chat.
So what are you waiting for? Try our new app for Apple and Android devices to find your dream job